This is actually something I did last week.. same day as the weaved barrette.. I did quiet a lot of crafts that day. :) lol I am just now getting around to posting!
I had been wanting to buy more paper holder magnets for the fridge, because we always end up with lots of things on the fridge such as drawings from the kids to all sorts of invitations and what not. Well I was in my craft room trying to get things more organized, and I came across a load of clothes pins I had, had for ages.. really 4 years! They were from my baby shower when I was prego with Bruce Jr! lol
And it hit me.. hey.. I could use these and just glue magnets to them. It would be perfect! So later that day I went out to buy me some magnets.
The next day my sister came over, she and my daughter Kiah helped me do this cute craft. It was such a beautiful day that we sat at my patio table outside instead of in my craft room! At first I wasnt sure how I wanted to do them, I thought about painting them, or adding decorative scrap paper to them.. But I ended up just looking through all the stuff I had available and here is what I found: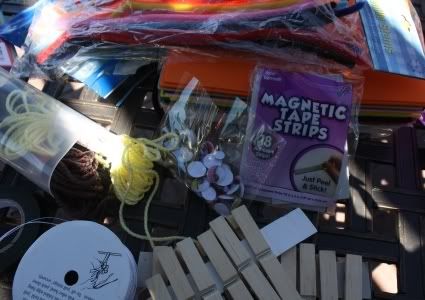 Some things may not be in the photo.
The List of everything we used:
Clothes pins
magnetic tape strips
glue gun
Colorful foam sheets
sequins
yarn (I just so happened to have yellow, brown, and black handy Perfect for hair colors)
Ribbon (like the kind i used for the weaved barrette)
googly eyes
pipe cleaners
fake flowers
pens
Pretty much everything on the list can be found in a dollar tree store.
I found these adorable googly eyes at the dollar tree (LOVE that store!)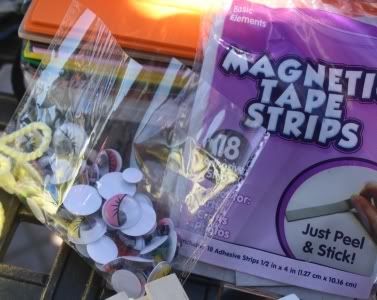 And here is What we came up with: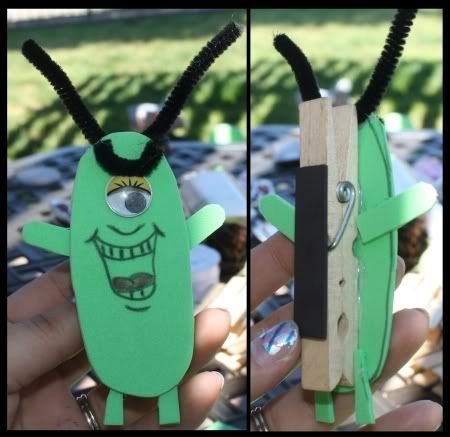 *hehe* I made Plankton from Spongebob
The Magnets were "peal and stick" but i wanted to make sure they were really secure.. so i used the glue gun on them too!
Here is my country girl I made: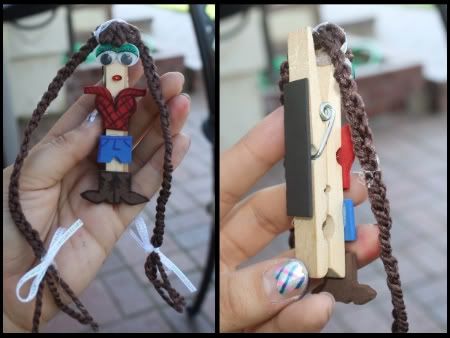 And the Tinkerbell I did: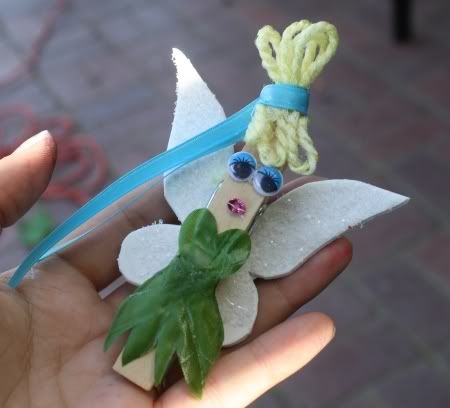 Used The leaves from fake flowers for her dress, felt pretty creative with that one. :) The wings are glued to the back of the clothespin under the magnet!
I also used a leaf for this one too :)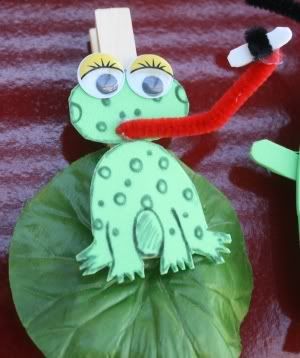 Here is my blue lipped ring pop wearing princess working on hers:
And the girl she made: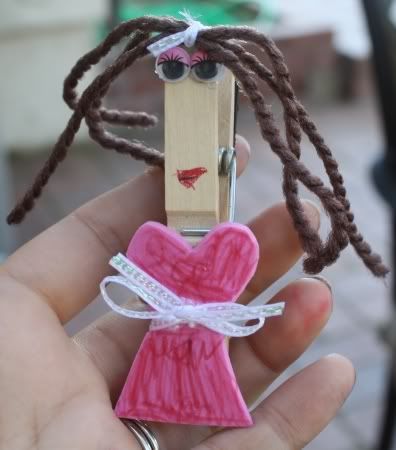 cute huh?
here are all her creations: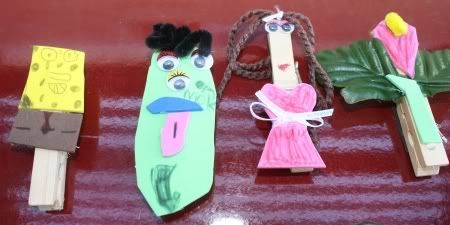 there is spongebob, a monster, a pretty girl, and a flower. She did great! :)
These are all the awesome magents made by my lovely sister Alea: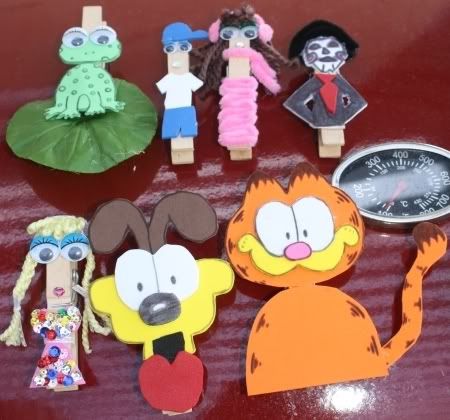 from top, left to right: Frog, Skater boy, Winter Caroler, the guy from the movie SAW (That one was made by her husband Scott.. he's big into movies) Then a girl, and obviously Odie and Garfield. My sister is a Garfield collector. And she does a great job at drawing him huh!?
And Lastly here are all mine up on the fridge! :) Of course had to make a 9ers one for the hubs! lol
(To the left are the other magnets I made from flattened marbles. :) I'll have to make a blog post for those some day.)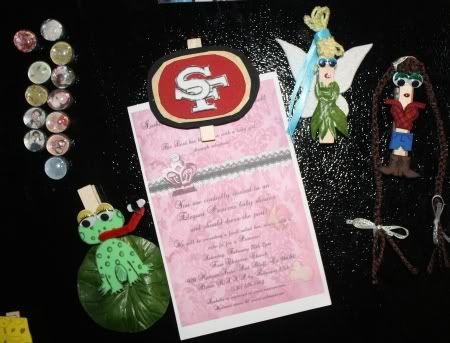 I really like how they all turned out, and how creative you can get with them. We just kept getting more ideas and making them one after another. It was really so much fun, cheap and also useful! Which I love!!! Hope you all enjoy.. and if you make any please post a blog with some pics and comment with the link so I can check them out! I'd love to see what you come up with! :)