I know, I know I'm so mean! lol But I cant be the ONLY mom who sometimes gets a laugh out of the fits their kids throw! Right? So This is my youngest son, Zander. He is 13 months old, and he is such a great kid, with such a sweet disposition and mostly independent and happy! Of course when I happen to be completely occupied he is all over it and HAS to have my attention. lol Does this sound familiar to anyone else? Or is it just my kids? ;)
So there I am, sitting there with a mountain of laundry that Ive got to fold and put away for our 5 member family. In stomps Zander (otherwise known as babyzilla) who wants me to hold him. Which was fine.. I didnt mind having him in my lap while I folded some laundry. That was until he wanted to start pushing over piles and unfolding everything! lol I firmly tell him NO! He starts to pout then wants to wiggle in my lap and turn and all that. So I tell him no again and this time put him off my lap... there he is standing next to me and starts the tantrum! Normally I would call for the hubs to the rescue so I could get some work done! lol BUUUT this time I decided to make some fun of it and grabbed my cam real quick hehe... so I could share my dramatic son in action. :)
Step 1: The scream
Step 2: The whine
Step 3: Oh the Humanity!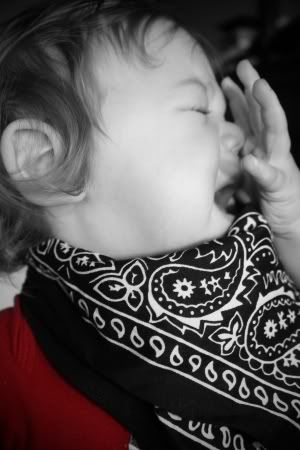 Step 4: A little pouty defeat
And if you're curious.. here is my precious little prince sans the 'tude!
Look how sweet that smile is! :)
yeah Im a proud mama.. he is an angel and I 'yove' him (as my 4 year old, who cannot pronounce "L's" yet, would say)
Woot woot.. come on lets hear it for the mamarazzi :)
*Photos all edited by me :) And have been reduced in size to fit the blog!