Welcome to Not Me! Monday! This blog carnival was created by
MckMama
. You can head over to
her blog
to read what she and everyone else have not been doing this week.
Hello ALL!
If you read my last blog.. you know that Ive been one busy mama! Been painting and setting up the game room, the hubs and my youngest son Zander have been sick, and yet we still to be go go going!! Ive been soo tired lately...
But definitely NOT soo tired that I would just give in to my precious baby boy at almost every chance he took to be spoiled this last week.. nope NOT ME!
I was NOT too tired every night he woke me at 2AM crying, to calm him down enough to put him back in his own bed, so of course I did NOT just let him just sleep in bed with us, causing him to start making a habit of it, OH no not me.
Oh and being the wonderful wife and mommy that I am.. I would NEVER go a night without making a proper dinner for my family. I would not just making top ramen and call it a night. NOT ME. Since I would never do that.. there would never be a chance that we didn't all eat together at the table as a family. SO enjoying the new game room with the hubs alone, while the kids ate their dinner, of course didnt happen.
And if one of my kids was too full to finish, I would of course be there to put his plate or bowl away and clean up the dinner mess right away. I would NOT just leave it on the table for my babyzilla of a son to climb up to and forage for more food. He wouldnt of knocked the bowl over and continued to eat my older son's left overs.
Of course if that DID happen you can be assured that when I found him, I wouldnt just laugh and quickly grab my camera. NOT ME! Letting my child eat off the ground like an animal!? Not me, NOT ME!! I would not find that the cutest and funniest thing of the week. And these are NOT Photos to prove it: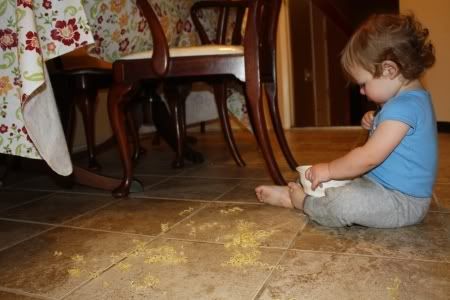 Hey...using a fork like a big boy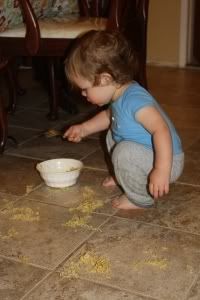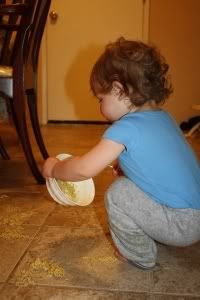 What happend? Surely I didnt make this mess, did I? LOL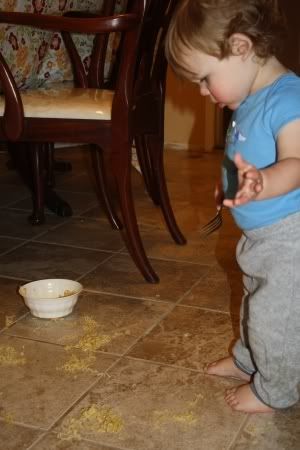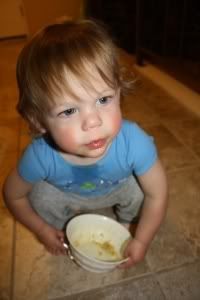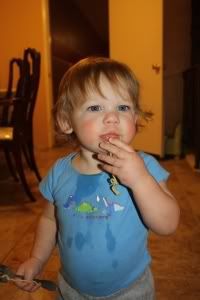 Proud of himself
Still Hungry??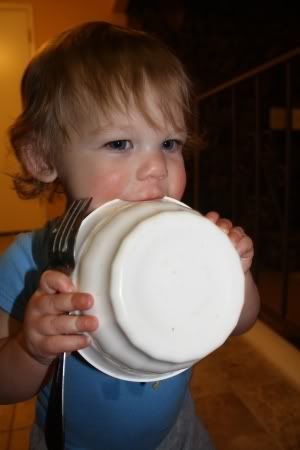 Haha I LOVE that kid! What have you "NOT" done this week??