So I was checking online to look for some things to help my sister in law with nursery room ideas. After a long while of searching.. I was was interested in looking for things to do for my own kids' rooms.
Kiah's room is painted half purple and half gray, her theme is going to be purple and Zebra print. The boys' room is painted half green and half gray. Their theme is robots. I actually found some cool things... but the hubby said no to me spending any money right now.
He actually said to me.. why buy this stuff when you can make things yourself! lol I protested at first.. prolly just cause I was in the mood to shop haha and then I thought to myself.. hey wait I CAN make stuff myself.. maybe I will paint them a picture of robots of something. lol
Since I had some 16x20 canvas's on hand... they were on sale at Walmart.. 2 for only $9. That's a great deal.. so i bought 6 :) Just in case I felt like painting... lucky me :)
So I grabbed those and one of the pillow cases from the boys room. and Decided to paint them each a robot to hang over their beds. :) I'm so excited how they turned out that I had to share! :)
I didn't think to take pictures as I went... otherwise I would've posted progress pictures. lol But here they are.. the Finished products: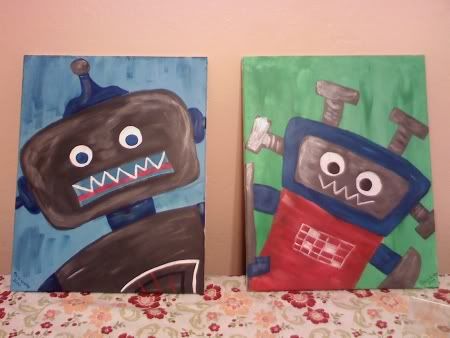 The green one I made for Bruce Jr, my 4 year old. And the blue one is for Zander my 13 month old. :)
Here they are with the pillow case I used for reference. So the robots match their bedding. :)
And the boys just LOVED them! I wish I would have thought ahead to record their reactions.. but I didn't think they would respond as great as they did! LOL
Zander grabbed his a looked at it making all kinds of excited noises.. he was pointing it and had the biggest smile on his face. :)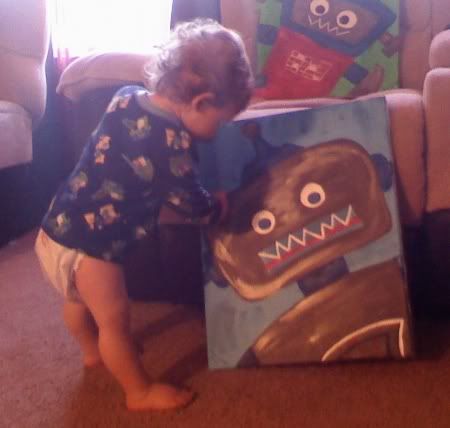 Here is Zander pointing to it. lol
And lil Brucey he was so excited too, he wanted to carry the painting around and sit with it and everything. lol I let him for a while... but was worried he would get too rough and rip the canvas! lol But he is such a sweetheart. Coincidentally I made these the night before his birthday.. so when he saw it, it was his birthday morning.. and it was like an extra present. :) Here he is below with his robot.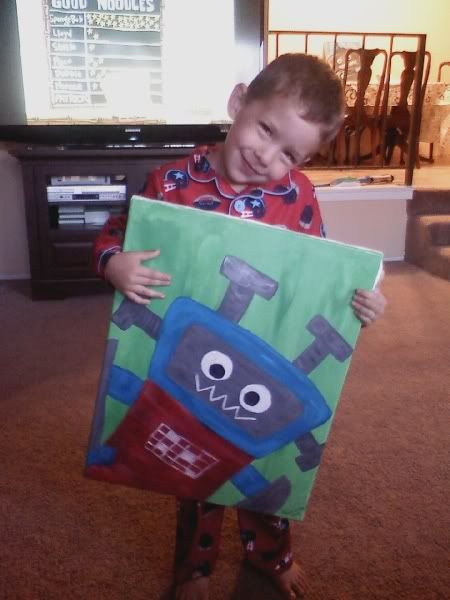 And lastly... here they are hanging on the boys' wall. I thought they would be big and look cool hung up.. cause when they boys were holding them they looked like big paintings! lol But they look so small on the wall! LOL Oh well its a start and its something.. and I guess its still pretty awesome... something personal and special for them from mommy.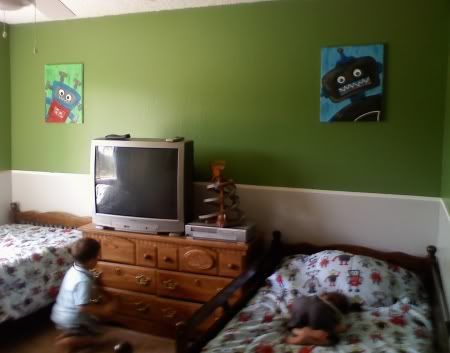 Im inspired now to make more things for them, to spice up their room! But I think I may do something for Kiah's room before I make something else for the boys..to make it fair. Ive already got some ideas... Im thinking something with her initial(s). Ill post what ever it is once its done! :)
In the mean time.. maybe the hubs will let me at least buy ONE thing I thought was soooo awesome! Check out this
robot chalk board
!! How cool would that be for their room?!? lol If he says no... I just MAY be able to do something similar.. I did happen to find chalk PAINT at walmart! hehe Which I thought was soooooo freakin amazing.. you can paint anything and make it liek a chalk board! lol aww well anywho.. maybe its just me?
Well thats about it... if any of you out there have any ideas for me or cool craft ideas please share!! Im all ears and hands ready to make more things. Especially Zebra or Robot themed! Let me hear from you other crafty ladies out there! :)
Im linking up to this great painting linky party!