Remember the beer mugs I mentioned buying in my
unbeWEAVEably cute barrette
post? Well I have finished what I had planned for them! They arent perfect, but I really think they will be a hit with the hubsters!! :) As I said before I found these at the Dollar tree. As soon as I saw them I got all excited, and had plans for them right away! I bought like 10... I knew I would want to make more, for my brother in laws and such. :) So here is what I did:
I knew I was going to make a pair for Bruce (the hubs) so although normally Id just paint freehand, I wanted them to match in size and placement.. so I actually printed out the logo, taped it to the inside of the mug, to use as a mark while I painted.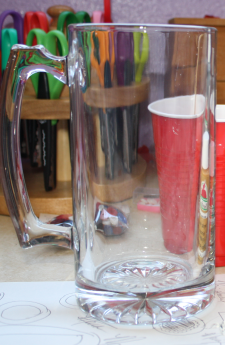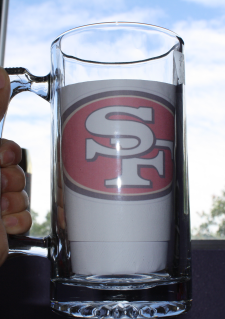 I did a rough painting of the SF and the red around it, then took the printed logo out to finish the painting.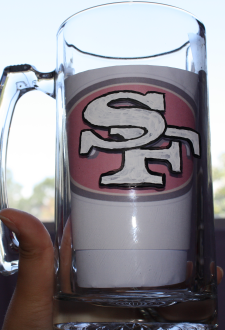 I didnt really do much homework on this, and I really should have to see if there is a special paint for glass, I used acrylic. It turned out good.. but as it dried and I was painting more coats it would peel at some points.. so I had to be extra careful! I wanted to paint it thick though, so it wouldnt be so transparent. So I did about 3-4 coats of each color.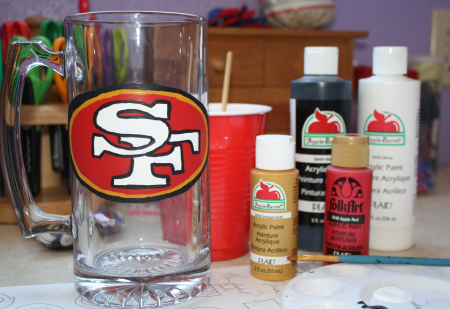 Here is the first one up close. Its not perfect, But it works. :)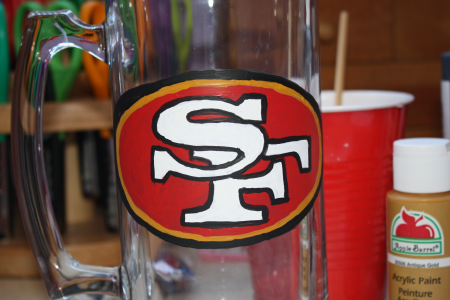 Both complete with painted logo's
I let them dry over night, then the next day I used an acrylic sealer to make sure they could be washed without ruining the paint. I turned them upside down so that the spray wouldnt go inside the mugs and did about 3 coats, on just the painted side.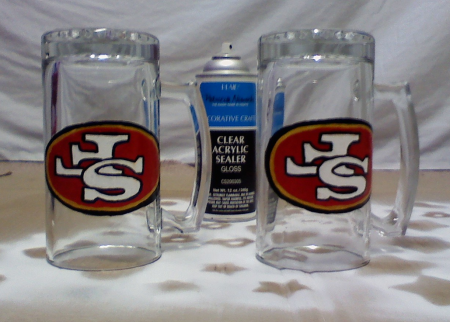 I let those dry overnight again... and the next day I bought my husband his fav candy and a bag to put it all in. :)
I really am hoping he likes them as much as I do. I think they will be the perfect addition to his game room, in the bar area once its all set up! :)
Im linking up here: