I absolutely ADORE Cameo Silhouettes. I Love the the Victorian Era.. and thats what they remind me of. My sister bought me 2 cameo necklaces last year, and I love them. Id been wanting to do the kids Silhouettes for quite a while.. as I said in my last post. The reason being, is because our home has a living room and a sitting room... Well thats what we like to call them. :) My husband gets the living room, with his reclining chairs and big screen tv and such. And I get my nice sitting room with big cushy couches and bookshelves. :)
Because I love the Victorian era so much, I want my sitting room to have a Victorian theme. And Im still working on it. I had been holding off on doing the kids silhouettes because I wanted them just so.. I had to have the perfect frame. I wanted the oval, and with a nice detail. And I could never find them.. not in new stores or thrift stores... and Id seen one or two in antique stores, for more than I could let myself spend on a frame! Plus there was never enough of the same or right size, Ive got 3 kids!! Then I found
Paper Princess Chronicles
, through
Craftaholics anonymous
and was inspired by the
silhouette
she made of her daughter.
She used a silver tray she found at the dollar tree.. it was PERFECT! Why hadnt I thought of it? lol Cause Im totally lamesauce, failure face. HA! Anyways.. it inspired me to finally get mine done... here is the outcome.
Bought 3 (well actually 10.. in case I wanted to do more for family or something.. its the dollar tree... I know Ive got an addiction.. really its a problem, dont laugh, I need help!) So I bought these silver trays... The Colors in my sitting room are a red and gold. SO I spray painted them gold.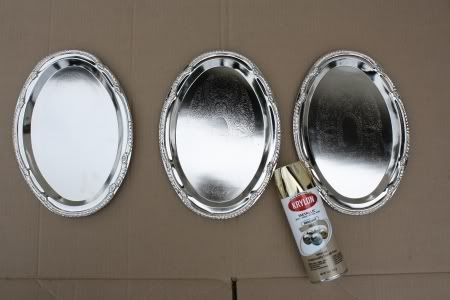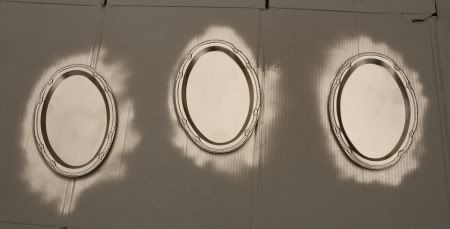 I wanted to give them an aged/antiqued look, so I painted the edges black.. and without thought of a cleaner simpler way.. I just started wiping it off with my fingers!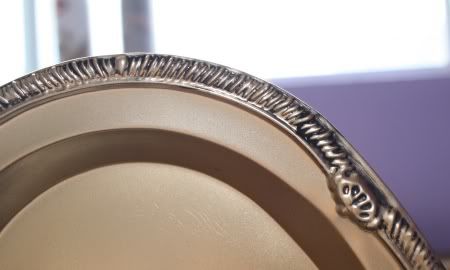 *hanging head in shame* I know.. I know.. its sad.. Im worse than the kids.
But I actually think my finger prints made it look cooler. ;)
But I really love the way they turned out!! It really made the details pop so it was worth the mess!
All three of them done. :)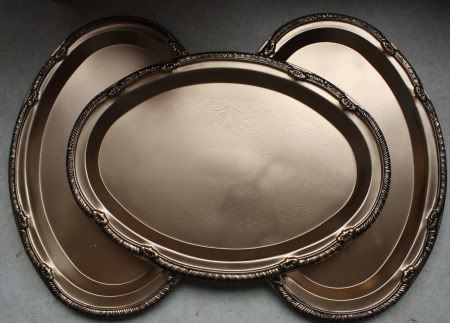 While I was letting those dry, I worked on the silhouette. Idk why I didnt take pictures of this process.. probably was way too into it. But for some reason Ive always got to do things the hard way. I didnt have black paper, and I didnt feel like going out to buy some. SO I just printed the kids profile pictures out on card stock paper, and cut them out, then painted them black. After that I matched the bottom of the trays with the cutouts and traced where I would need to cut so they would fit to the trays.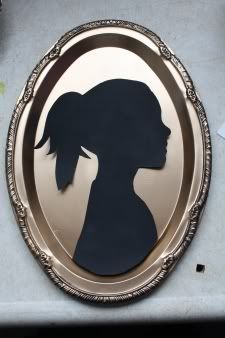 I used craft bond spray adhesive to stick it to the tray. I sprayed the back of the cut out and just stuck it on. :)
While that was drying I worked on the handles that they would be hanging by.
Took 6 1/2 in of ribbong (as you can see lol I wrote it down so i wouldnt forget while doing the other 2, and for posting to you)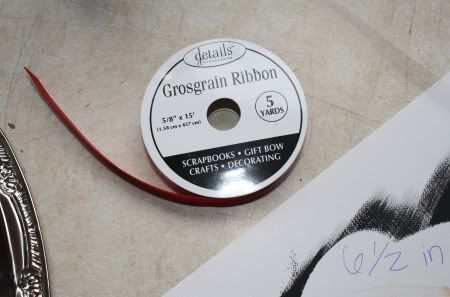 *The paper the 6 1/2 is written on is where I painted the silhouette cutouts on.. :)
Then I hot glued them on marked spot on the back top of the tray.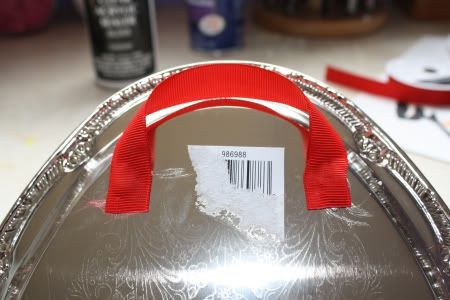 You could make them longer if you prefer a more cutesy look, but I didnt want mine in view.
I used a sealer... Sprayed the whole tray. And then added a cute lil bow for Kiah.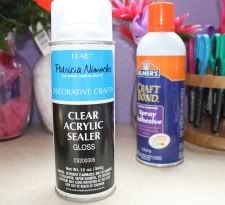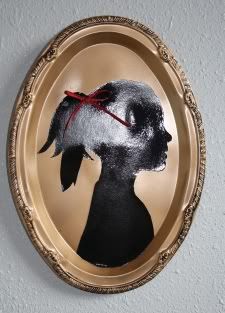 And the Finished outcome...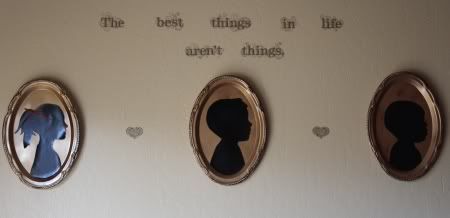 Remember those Vinyls I bought at the dollar tree.. I added them for an extra touch. :)
And in order up close there is: Kiah, Bruce Jr and Zander: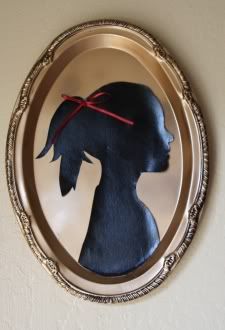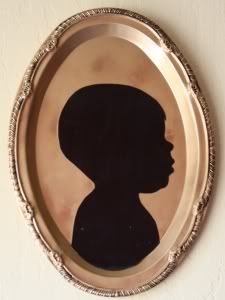 There they are hanging over my fav oversized chair! :) Kiahs looks the most shiny cause hers is the closest to the sliding glass door, lots of light shining on it.
I absolutely love how these turned out, and everyone who comes to visit admire them too. :) Yay Im proud of my project, and how they look in my sitting room. You can tell by now that our home is still a major work in progress... Thanks for coming along for the ride!
Happy Saturday All!!