Cute, fabric photo albums! :) When I was a little girl, my gramps made these for all his kids. SO my mom and all my uncles and Aunt got one. And my grams filled them with all the photos of them as children, and other family photos, including some pictures of their own kids. I ALWAYS loved them, and thought it was so cool that he made those!
So bought the supplies and made a few myself, and gave them away as baby shower gifts. :)
Sorry for the bad picture quality, At the time of making these I only took quick pictures with my cell phone. But I will be posting a tutorial sometime next week, with better pictures. :)
This first picture is the very first one I made. It was for a friend of mine & soon to be sister in law.
This teal blue is her favorite color, and her sons nursery theme was to be blue and brown. She is a cowgirl and so thats why I decided on the suede fringe, its just seemed so "her". :)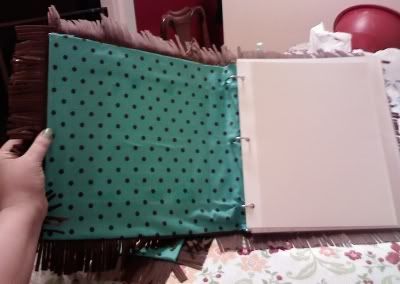 As a gift to her, I did her maternity portraits (which I will also be posting soon). I edited most and printed out about 300 of them. Filled the album and gave it to her as a surprise at her baby shower! It was a surprise because she didn't know about the special album I was making her or that I was going to be printing them all for her!
This next one, was made for my sister in law, who is pregnant. I gave this to her at her baby shower, and will be doing her portraits with the baby once she is born. :)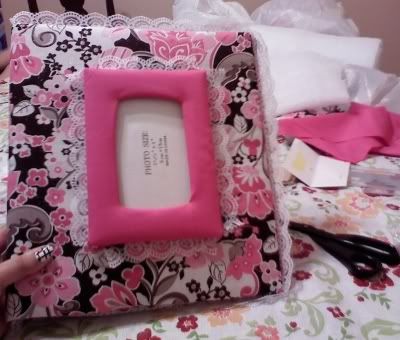 This last one is my favorite one! :) This was made for
Isabella
! When I saw the fabric, I knew it was sooo her. Since her nursery decor is Princess theme, with colors pink and black, and a lot of demask print! And I just adore this fabric! And of course for this special princess I had to find jewel studded lace for the trim! Her mommy,
Mona
, filled it with all her portraits that I took of Isabella. :)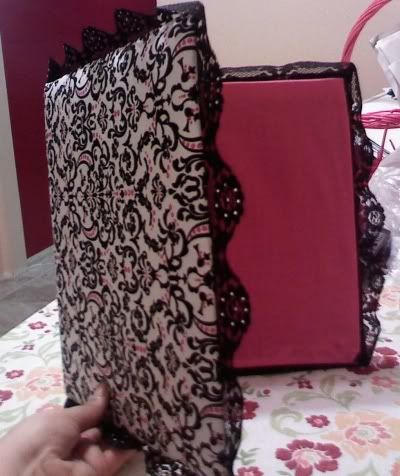 Like I said, Ill be doing a tutorial for these next week. So if youre interested, be sure to check back, or become a follower so you dont miss a thing! :)