I came up with this idea a little over 2 years ago, when my sister had a scrabble game she was getting rid of because the box was ripping and some letter blocks were missing. (this happens when you have little ones lol)
I excitedly asked her if I could take it off her hands. The idea had been rolling around in my head for a while, and I wasnt quite sure if I wanted to buy a new game for it or not. When I found out she was needing to buy a new one, I felt proud of myself for waiting. :)
Since Ive been wanting to make a new one soon, to include Zander, it was on my mind so I decided I should share my idea with you. Because I really love mine, and always get compliments on it when people see it.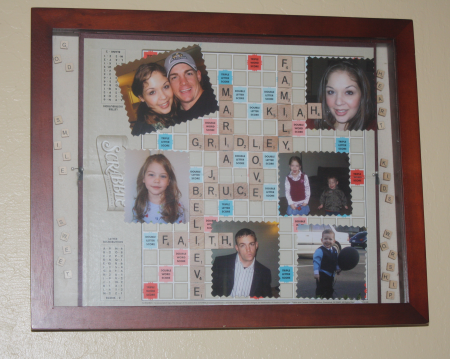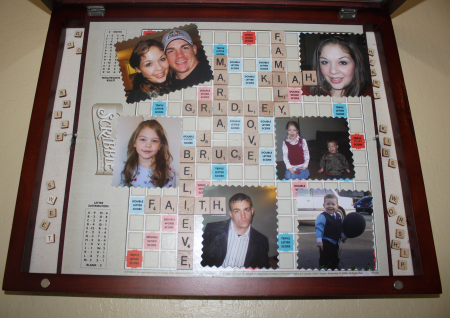 You can tell how old mine is... they dont make this scrabble board anymore.. its a more colorful game board now, which still looks good... But I think I prefer the simple plain look of the old scrabble board for this project.
You can see the new versions below.. I made one for my older and younger sisters Mona, and Alea. I still need to do one for my youngest sister Samantha! She has mentioned it to me, 'when do I get mine!' LOL
This one is Alea's. I did a wedding theme, since at the time she was a newly wed. :) My Daughter Kiah was the flower girl. ♥ (btw their last name is Young.. thats why its one of the words there!)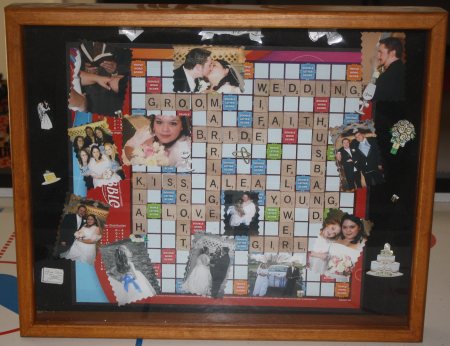 This one below is of my older sisters family. Of course they now have a 2 month old.. so she needs an updated version too! She took the pic for me with her cell phone.. sorry for the grainy-ness of the photo! :)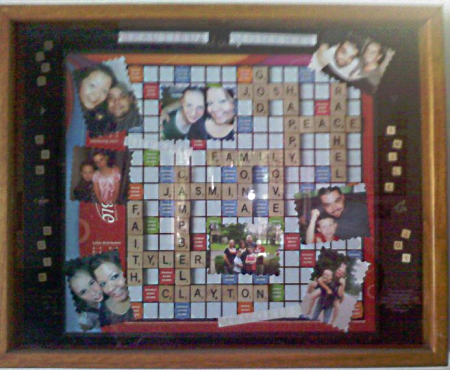 Just by looking at the pictures Im sure it seems easy enough to make one for yourselft. So Im not doing a tutorial. But here are some helpful tips:
~I used scalloped scissors to cut out my pictures and give it an extra touch of personality
~I used a hot glue gun for it all
~I made sure all out names would be included first (including last name), then added other words that meant something like family, faith, love.. etc
~Write out all the words you want on a paper, as you would on the scrabble board to make sure they will all fit and work together...you have to get creative with it!
~Make sure you have enough letters for the words you want! (Sometimes this means needing more than one game!)
~I used other things like stickers, and small scrap book scrabble pieces to embellish around the game board and shadow box.. so it doesnt look too empty!
~make sure to get the right size shadow box!! I believe my first try was a 11x17 (or something like that) and it was a tough fit.. the next 2 I made(the ones for my sisters) were 16x20 and they fit perfectly! I bought the shadow box frames at Micheal's.
~Be creative.. I did a family theme for myself and Mona, a wedding theme for Alea.. but you can do any kind of theme; vacation theme, all kids theme, pet theme, craft theme or even a family game night theme! How cute would that be considering what youre using! :)
Hope that helps.. if any of you lovely readers happen to make one of your own, please come back and show me your creations! :) Id love to see your versions!! :)
I even loved it some much I had created a digital one for fun, to put on my myspace..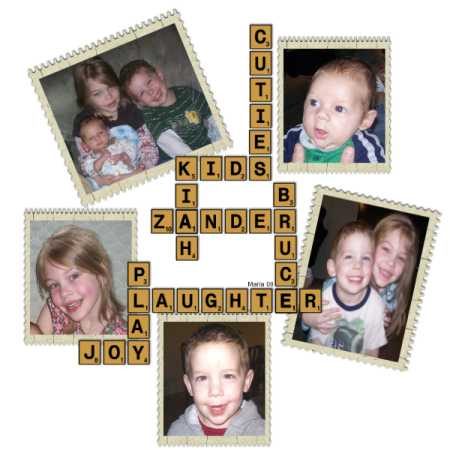 hehe :)
Well Im off to bed now.. got church in the morning! :) Hope everyone has a wonderful Fathers day!
~Maria
Im linking up here: