Remember the Z from my
monogram hair clip holder
, and how I said it was originally for another project?? Well Im finally getting around to posting that project! Lol Ive been talking about it since I painted the boys'
robots
!
This is what I had originally planned on making.. well something to that affect.. but I wasnt loving it.. so I thats why it took so long to finish it!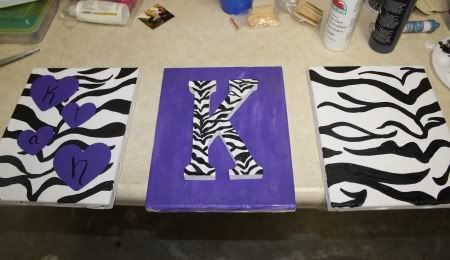 I had really wanted it to be textured so I was doing crazy brush strokes
and even added some lace over it as I painted for more texture
I actually like how it turned out: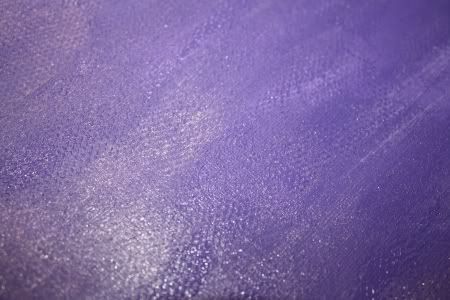 I painted the other 2 canvases:
And then I totally changed my mind... Id been wanting to do something with silhouettes for a while.. and even had taken the kids profile pictures so I could have them handy when I needed them! I printed hers out on card stock paper, cut it out and flipped it to the white side. Used it as a stencil, to paint on the purple painted canvas.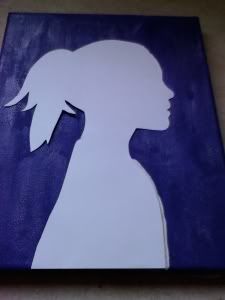 She wanted it to be glittery, so I did an overcoat of glitter paint on all three canvas'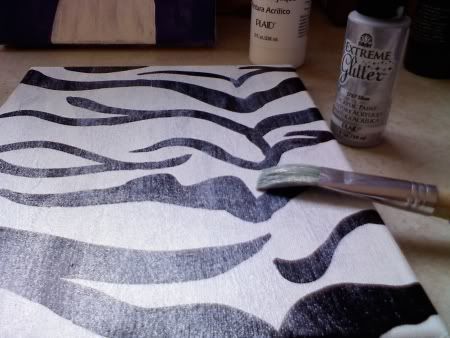 And here is the finished product: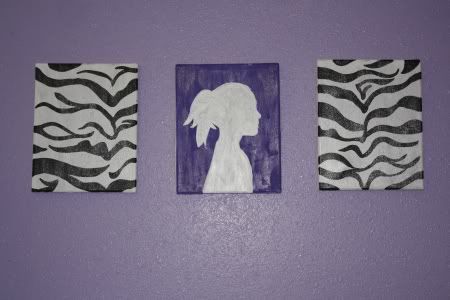 i was impatient with the glitter on the purple/silhouette canvas and i dont like how chunky the glitter is.. but she loves it... and thats all that matters. :)
As Im sure you can tell by now, Kiah's room theme is Zebra print and purple. Here are a couple of other things we made for her room. :)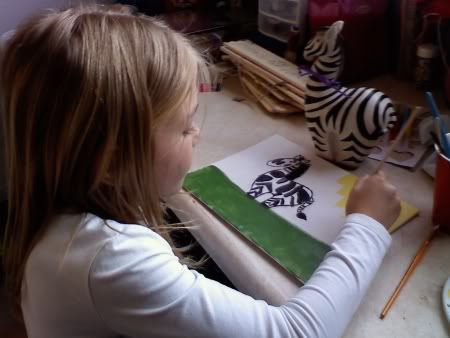 I bought that adorable Zebra for her shelves, at Ross... Ross and Dollar tree ROCK! I L.O.V.E. shopping at both! haha ANYWAYS... She wanted to use it as a model for her own painting. Isnt she so cute.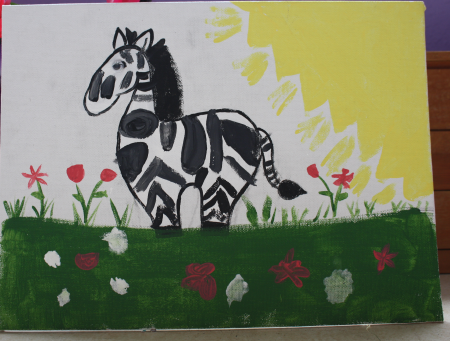 We added the google eye to bring it to life! Cute googly eyes found at dollar tree... told ya it rocks! lol
And I quickly made this vase to go on her shelves too. All Supplies... Sticky dots, Vase and freaking AWESOME zebra print (furry) ribbon I bought at the dollar tree. :)
And all I did was cut enough ribbon to wrap around the neck of the vase, added the sticky dots to help it stick and voila!! :) Instant cuteness!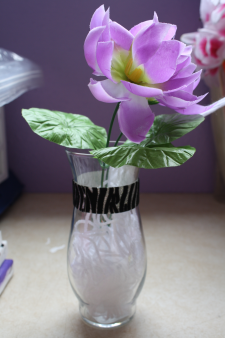 Idk if I really like the flower in it or not.. just added in something for the sake of the picture. LOL
Annnd thats allll folks! Sorry for the mass of pictures. :) However I hope you enjoyed the post anyways.. Im not always a creative genius, mostly Im a creative mess!! Have a blessed week end everyone!