UPDATE
: Ive finished
part 2
,
part 3
and the last
part 4
of progress..go check them out too! :)
So my birthday is coming up. August 8th, I will be turning 26. Woot. Im having a big Hawaiian Luau Themed pool party. And I had seen these photo cut outs that I really really wanted!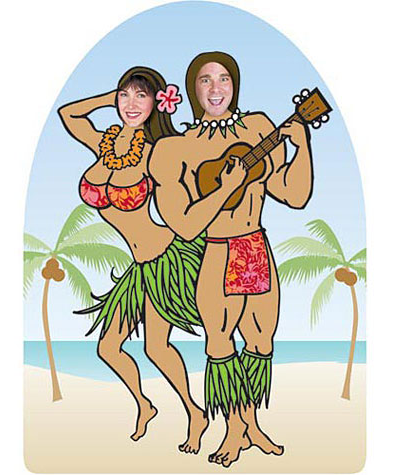 I thought it would be a cute thing to do as a party favor, since im not a child, and didnt want to do goody bags. LOL I wanted to buy this and take a photo of everyone who came. Then print them out and send them out, as a party favor and thank you to all who came. How fun would that be! I know Ive always loved these at fairs and such.
Well The hubs said that the price was just too much, for a piece of cardboard. about $40-$50 depending on what site you get it from. But considering it was over-sized it would have to be specially shipped and cost about $25 or more on top of that.
So the idea was a no go with the hubs. But I was talking it over with my sisters and they all said the same thing. 'Why dont you make one yourself?' I kept saying.. ahh I dont want to *insert pout face here*.. I just want to buy this. How am I supposed to make a life sized photo cut out?? LOL One of them suggested using that thin wood board (ply wood maybe?) or sheet rock. I was in denial for a while.. not wanting to take on the project.
However one day out of nowhere I got excited about it. I decided hey I can do this.. and it can be fun.. and then I'll blog about it. heh heh So I talked to the hubs. And asked if I could have his help, since it would need to be sawed (for the face cut outs) and would need a stand! He agreed to it, and I was even more excited!
He went out and bought one sheet (i guess you would call it lol) of sheet rock. He decided that may be the best thing to use. Easier to draw/paint on. He is so sweet thinking of me like that. And a few 2x4's for the stand. Spent maybe $15. But I cant remember for sure. All I needed for my part was pencil to sketch it out, and paint to finish, which I already had on hand! So Super cheap!!
Im not going to post the finished product in this post, since for one it isnt even finished yet and two it would be a very long post. But I will continue to post on my progress. Last week I did a rough sketch on some sketch paper. Just to get an idea of how I will draw it and how it would look, what I would need to work on and all that jazz.
here is that rough sketch: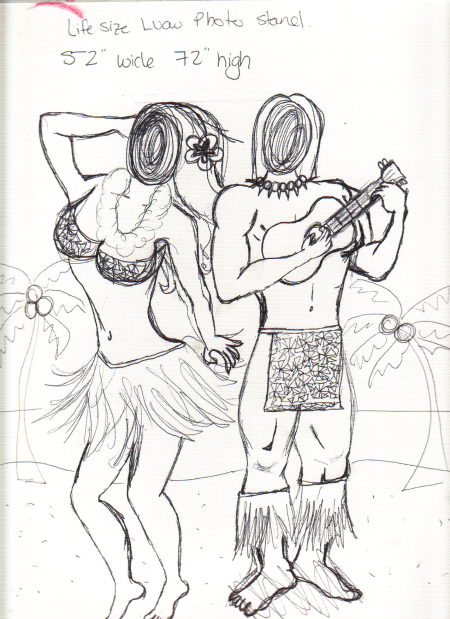 As you can see I made the heads too far apart and had to improvise on the rest of the girls body. Other things that need work; Hands, FEET, pretty much all of the girls body in general.. I couldnt get the proportions to look right at all. And for some reason (besides the feet) I did pretty good on the guy's body! LOL
Over all I was actually pretty impressed with how it turned out. And felt a little more confident about making the actual thing. Though it would be a lot more work to make it life size, than a 20 min 9 x 20 in rough sketch! But I know I can do it, and it will be my own. And something I know I will be proud of, and hopefully something my party goers will enjoy too!
Please stick around (maybe become a follower) to see this work in progress come to completion!!
UPDATE
: Ive finished
part 2
,
part 3
and the last
part 4
of progress..go check them out too! :)
Linking up at
these fab parties
!!!