This is part 2 of creating my own life size photo cut out for my Hawaiian Luau party. You can check out
part 1
to see how it started... Which I MUST say was featured on
Someday Crafts
!!!!!!!! :) I was pretty ecstatic about that!! It totally made my night when I found out!
Before I started the sketch on the sheet rock, I needed to make sure to line things up. I didnt do a full measurement of the sheet rock, but it was a lot longer than I needed, and not as wide as I had hoped. But I made it work. I knew I would want about 2 feet cut off so I measured and drew a line a cross the bottom of the sheet rock. Then from that line I measured about 67 inches (5 foot 7in) My husband is 5'9" So I wanted to make these a little shorter than us, I figured people could kinda duck to fit their faces in, and if they were a little shorter than that we could have a stand. I'm 5'3" so I measured for the woman to be 5'2" or 62 inches. I didnt make her a lot shorter than me cause well Im short already. And also I didnt want her too much shorter than the guy. :)
Anywho.. this is how it started.. I had printed out a picture of the original cardboard cutout I found online. I also had my rough sketch with me for reference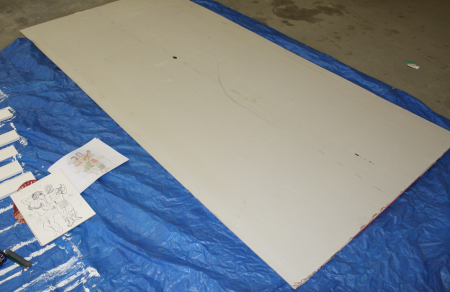 I had this spidey mask from my son. I thought it would be perfect to use as a guide for the head. I traced it out, the moved it out to make it wider and traced it again on one side.. then moved it out to make it wider on the other side, and traced again. I wanted to be sure it would fit someone's face.. so I went out to measure the hubs face.. LOL It was kinda weird.. but It seemed to be about 6" both ways. So I came back to the sheet rock and adjusted it to make it the same.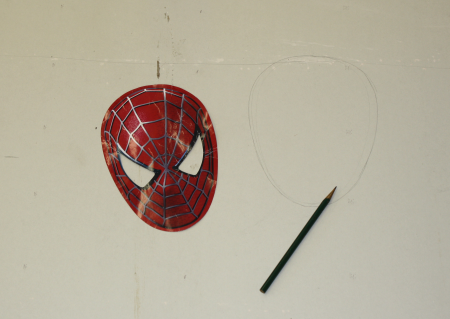 And then I just started sketching from there...
Making sure things look proportionate on such a large scale is pretty hard. You cant tell..but I had a lot or erased lines! I just kept drawing and re drawing and erasing until I liked the way it looked. I'll be so glad when I can paint it and make it look better!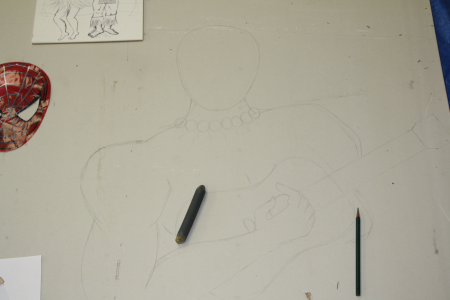 A full shot of the dude's body. :) Kinda hard to get a good angle of him.. the pencil looks so light in the photo!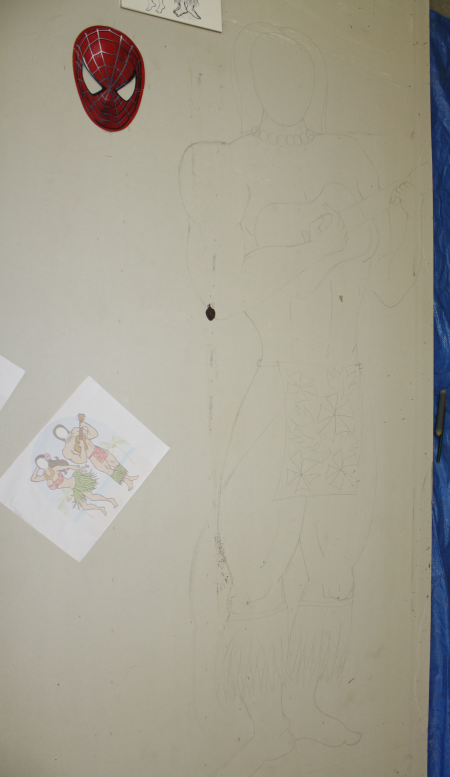 Here I tried to take a picture little by little so you can kinda get a better glimpse of the whole sketch. ( I adjusted the brightness/contrast so you could see the pencil better!)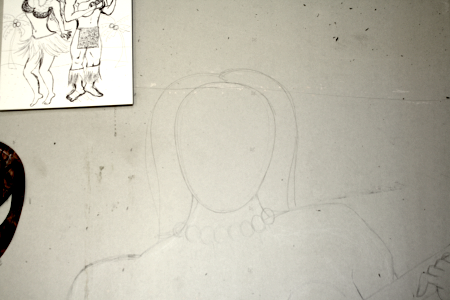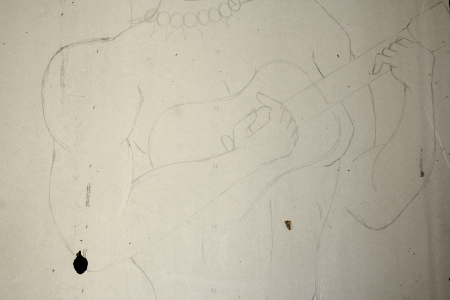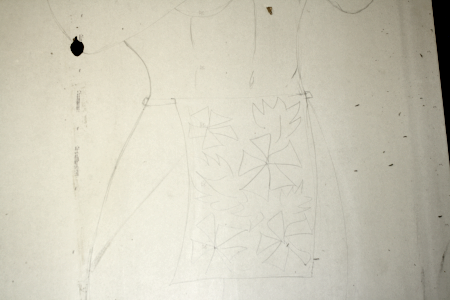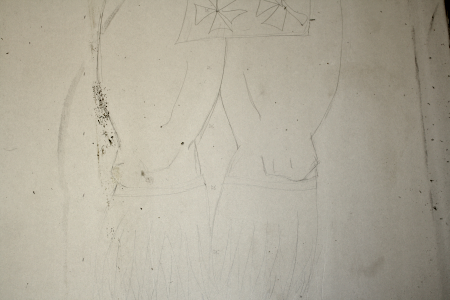 And the female!! AHH SHE was TOUGH! I thought it was hard to draw her on the sketch pad.. well this was waaaay harder. I think I spent an hour trying to draw her boobs right! haha I was laughing to myself as I was drawing boobs. I felt like a little kids saying to myself youre drawing boobs! LOL The other thing I had the most trouble with was her legs and feet.. which you will see what I mean. Urgh! hehe AND Im embarrassed to say it, cause I didnt realize it until I looked at it a few hours later.. but I gave her 2 left feet! hehe.. so I will fix that probably today. Before my husband saws the face holes.
Anyways.. Im pretty sure once its all painted it will look 100 times better! So here is the Luau Chick: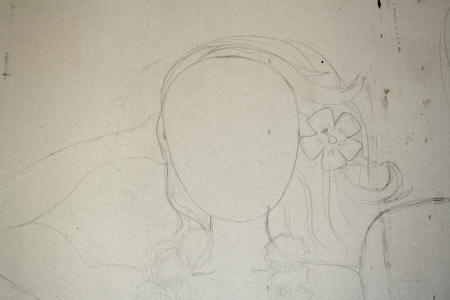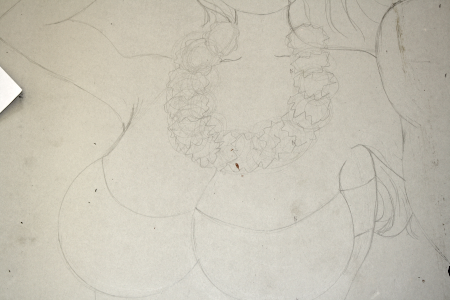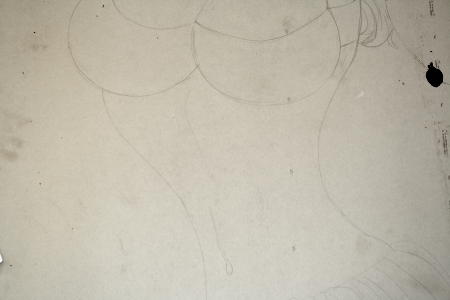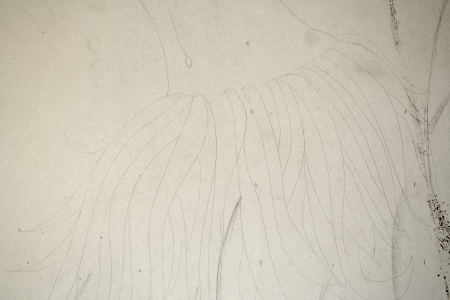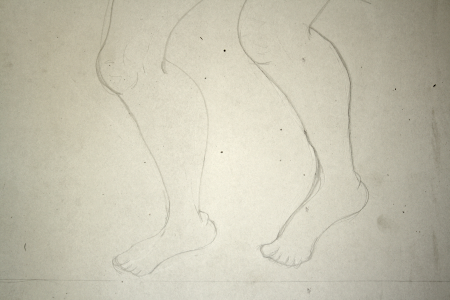 And the whole thing: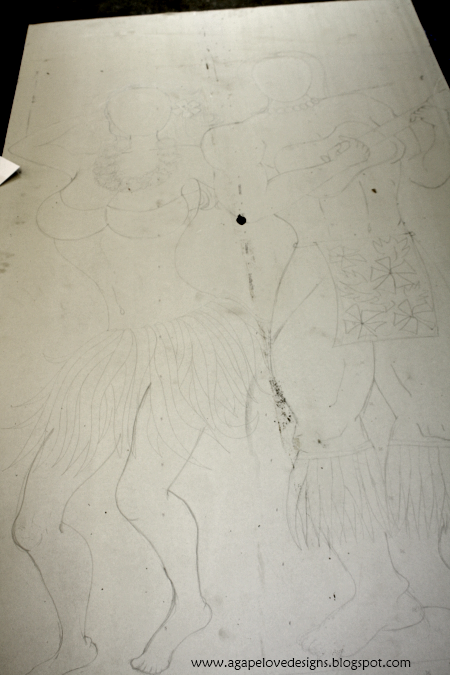 Over all, Im VERY happy with how it is coming along. Im proud of this and hope its something everyone will enjoy!!
Stay tuned.. for more updates on the progress!!
Thanks for stopping by!