Been talking about this for a while.. and finally here are some pictures from my Luau themed pool party celebrating my 26th birthday! :) Oh boy! The hubs keeps telling me Im closer to 30 than I am 20, then asking me how I feel about that? LOL That man....
Well anyways... I still feel pretty young...because I AM! :) And I had a blast on my birthday. Here is the back yard all set up. The Hubs did such a great job making it look great and doing it how I wanted.
So here I am standing right out side out laundry room door, looking towards the BBQ area.. I love my
Luau Photo Cut out
!! :)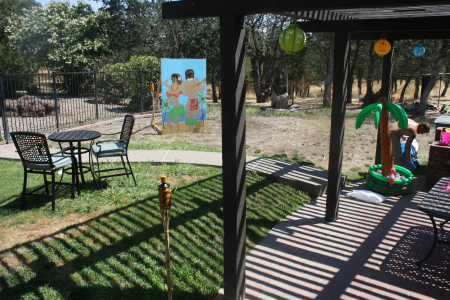 to the left we set up some comfy lawn furnature... usually we have it farther back by the koi pond.. but we wanted to keep it close to the pool so the party could stay close. :)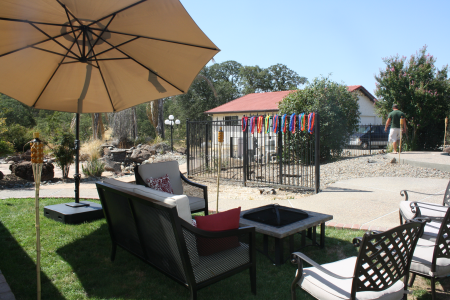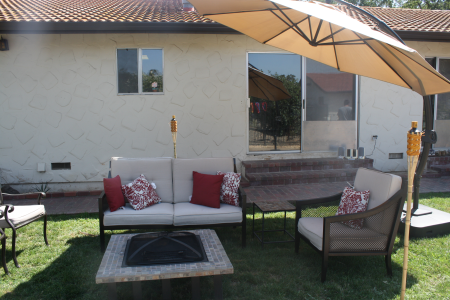 From the pool looking over to the BBQ area
The Pool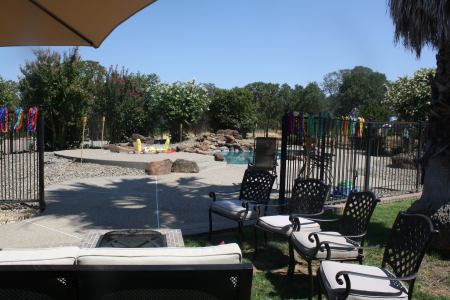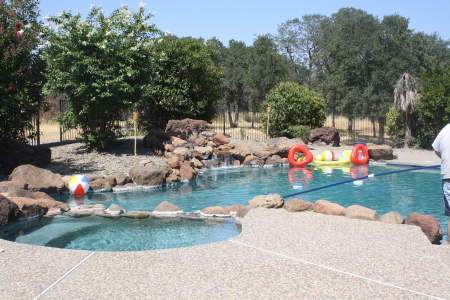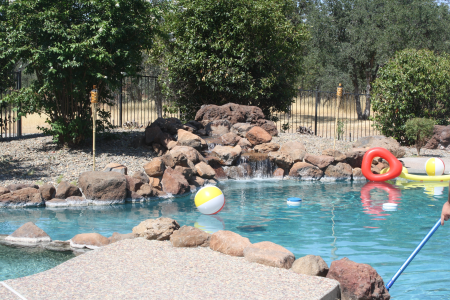 In the BBQ/eating area... I found these ADORABLE paper lanterns at the DOLLAR TREE!!
The hubs put down a wood piece to cover the open BBQ pit, and we made it the drink station.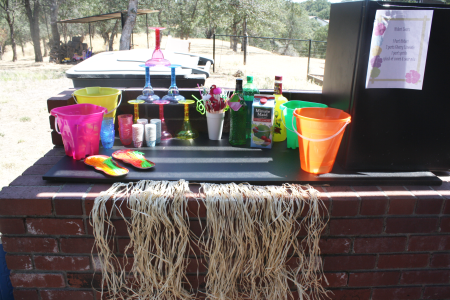 My Favorite drink recipe printed out on the mini fridge. :) It matched my invites.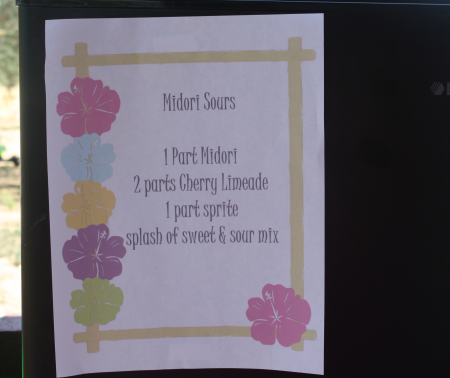 Fun Straws for everyone to use. found at $ tree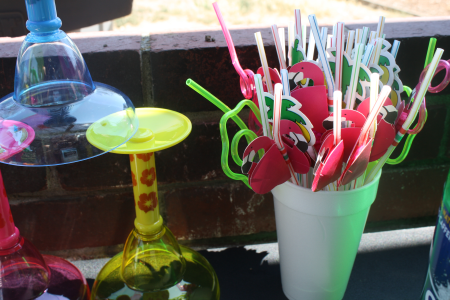 These were used for drink measurements.$ tree and walmart
Cups from $ tree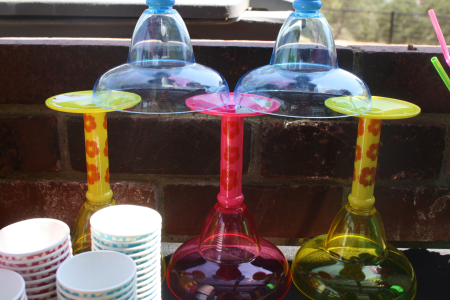 Stirring sticks from $ tree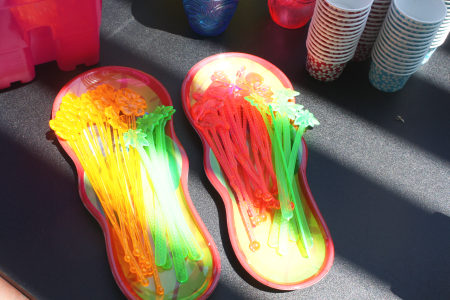 I love this fanatstic idea if I do say so myself! ;) I decided it would be fun to use sand buckets to hold the ice! :) I Love how it looked. Buckets also from $ tree. Gotta love that store!!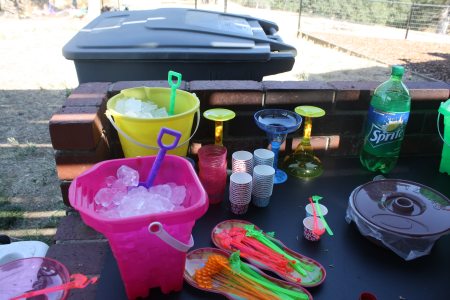 I found this palm tree drink holder online for only $10, set it up right next to the drink station.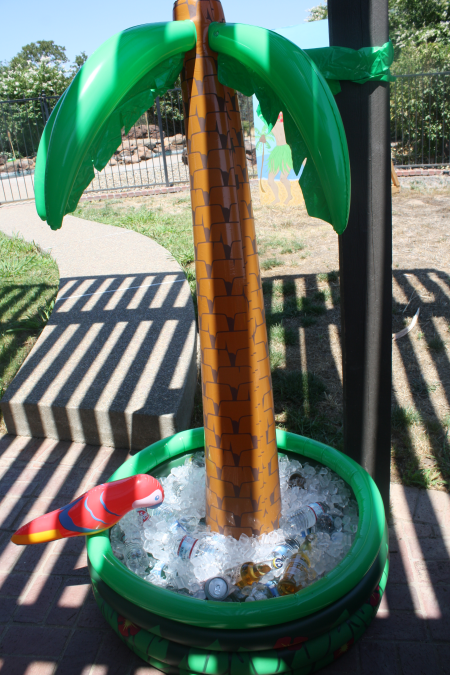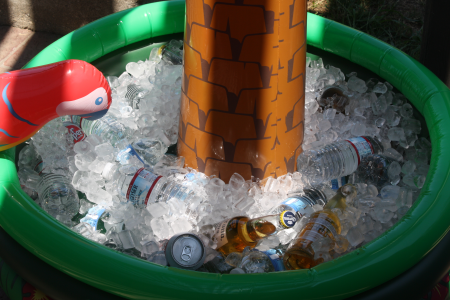 It was a pretty hot day! So the ice melted quickly, my brother in law had the great idea of buy dry ice!! And it was amazing, the effect looked really neat, and it kept the drinks ICE COLD the whole time! Perfection!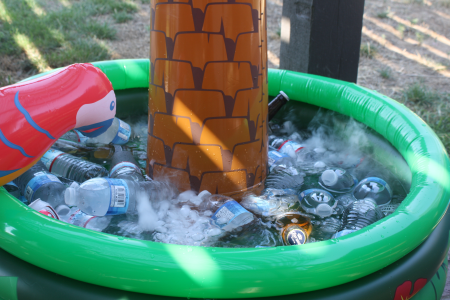 Here is my cake, 3 layer marble cake, with raspberry filling, and better cream frosting. So Delish! My sister ordered it for me from Holiday, I love their cakes. She used to work in that bakery.. so I trusted her with my ideas.
And for food, my wonderful friend (and hair stylist) Cassandra helped me... well she pretty much did it all and I helped her! I was a little overwhelmed thinking about food. But She enjoys cooking and all that stuff. SO she came up with some great ideas. She carved this watermelon to look a basket and we filled it with all kinds of tropical fruit!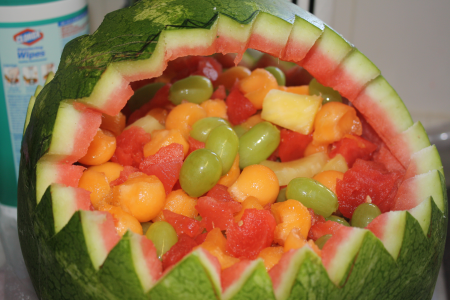 And we made this gorgeous fruit art... it was very time consuming though. But I love how it looked and tasted! :)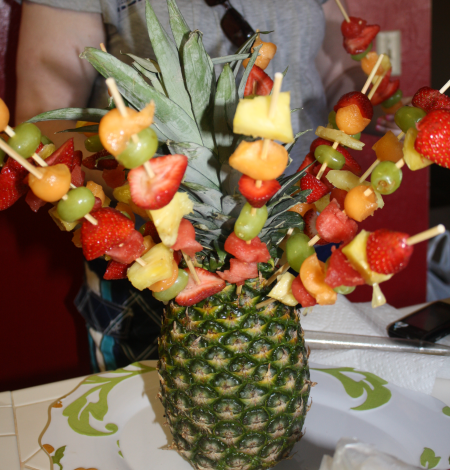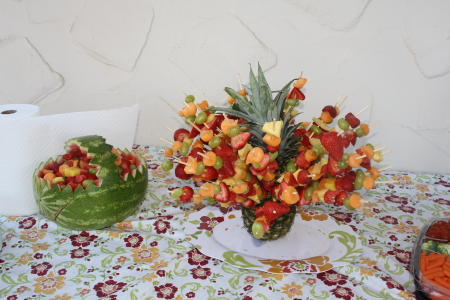 She made a delicious punch with sherbet ice cream and sprite. And Im a total failure when it comes to pics of dinner.. cause I was just hungry and didnt think to get some pictures! hehe
But the menu consisted of Spiral Ham, Chicken teriyaki meat balls, a tropical rice with pineapple in it, Hawaiian sweet rolls, and salad.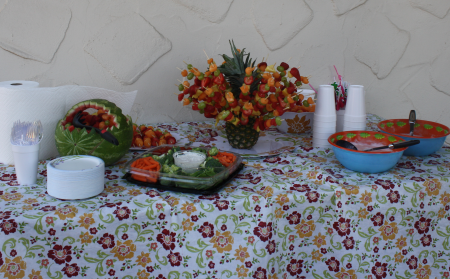 Some fun pictures with the photo cutout!! :) So LOVE it!!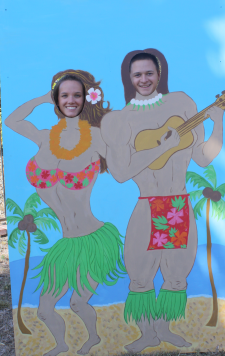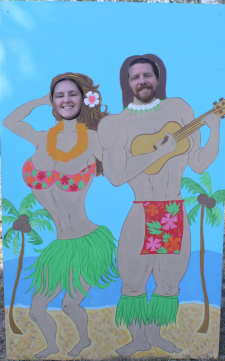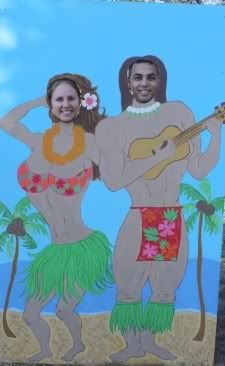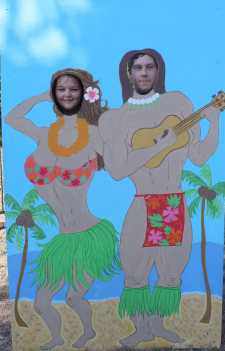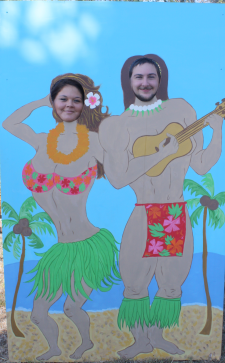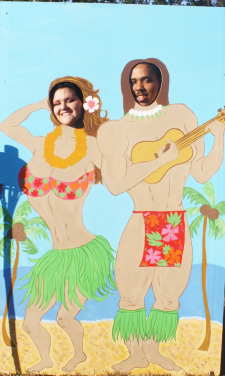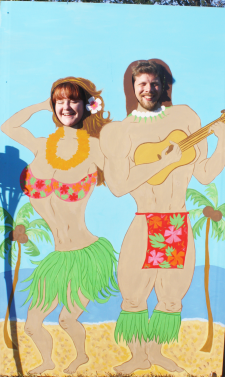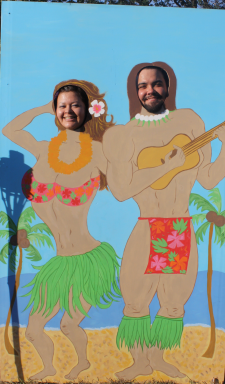 The last 3 are of myself and the hubs! hehe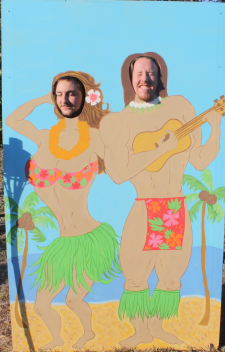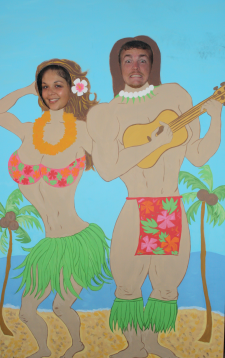 This one he said he was trying to look at my "boobs" haha he is such a goof!! :)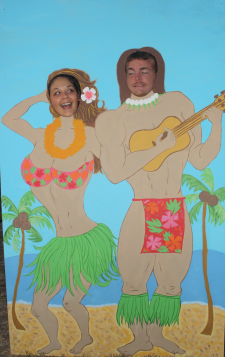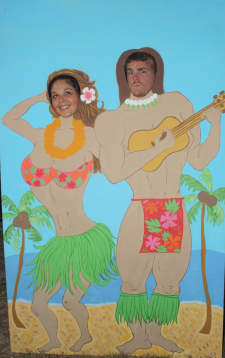 I printed them off 5x7 size and sent them out with thank you notes. :)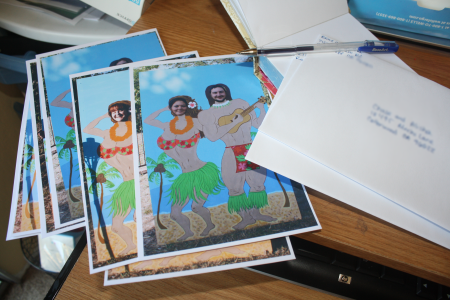 And for fun... a picture of my brother in law dressed up for the occasion. tehe
(and please refrain from looking at our hideoso crab grass!! bahaha)