I was looking through some of my old pictures last night and found a folder with pictures of some of my old paintings in them. They made me smile.. so I decided today to share one with you.. and I will most likely share more with you in other blog posts. Let me know what you think. :)
A few years back I did a painting for my sister Mona. After she got married her last name became Campbell, and her kitchen is decorated in Campbell's soup decor. She had found the cutest little picture of some Campbell Soup Kids eating tomato soup, and asked if I could paint it for her.
They looked so A.D.O.R.A.B.L.E... I had to give it a try. :)
Here is the picture she found.. this exact little picture is what I did the painting from!
So I got a flat canvas, and did a rough sketch.. I did this just by looking at the little picture above for reference.
Adding in some color.
A little bit of contrast/shading colors.
Details...
I just loved how it turned out! Its probably one of my favorite paintings of mine. :)
I finished the Logo and it was complete. :)
The only thing that bothered me was that their spoons were different lengths! LOL
I should have just made them the same.. but I was keeping it pretty much exactly like the original.
Here they are up close! I love her hair. :)
Cute right? hehe Anyways.. now its in my sister's kitchen.
Im going to be linking this post at the passion for paint party over at Mural Maker! :) Be sure to check it out!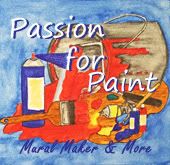 Hope you all have a wonderful day!! :)
~Maria-Isabel