Happy Happy Friday everyone!! :)
We made it to the end of the week!
Give yourself a pat on the back.
Since its Friday its time for another Fabulous Fan Photo's post!!
This is definitely a favorite part of my "job" as a designer, and
blogger. To get fan photos and happy customer photos
and see just how YOU use my designs and creations!
I already love doing what I do, but seeing these photos
and getting lovely emails and comments just make it better.
You are all the FROSTING to my CAKE! :)


If you want, feel free to grab a button
if you have been featured!! :)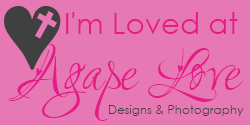 Stephanie of
Luxe Boulevard
, one of my wonderful sponsors,
is so giving, she always has amazing deals going on in her shop!
Plus she has sponsored
two
giveaways right here on Agape Love!
So I was thrilled when she happened to win one of
MY
giveaways
!
Doesn't my
Crown Glass Pendant necklace
look
just perfect on her? :) Its just so fitting!
headband at a STEAL, since she bought it from my
OLD SHOP
, which
still has a sale going on until all items are either sold or expired! :)
it set up here with a few other nick knacks.
My Beautiful niece Isabella, looks amazing wearing one of my NEW
ANNNND Lastly... Here I am wearing another one of my new creations!
I'll be sharing the back story for this is sometime next week. :)
Thanks for stoppin' by for Fan Photo Friday!
A BIG thank you
to my wonderful fans and customers!
And just so you know:
if youre a fan,
if you have purchased, or even won
any of my products,
If you have created anything
using my tutorials or printables,
if you wanna share where you
have used my printables...
.. please send in your photos!
You can email them to me at:
agapelovedesigns@yahoo.com
or
POST THEM TO MY FB WALL!
I'd LOVE that for sure!
If you havent "liked" me yet..
then head on over and do it
You know you want to.. all the cool kids are doing it!
And it will make me feel oh so loved!