I made this gorgeous ruffled bib necklace with rhinestone accent
about 5 months ago. Because I fell in LOVE with one just like it from
anthropology, when I saw Jen of
From Head to Toe
wearing one!
I knew I would never be able to afford one from anthro, so I just deciced
to make one myself! This is what I came up with! :)
So I decided to make another one to giveaway!
I contacted Nichelle a few months back and got on her
schedule to sponsor a giveaway on her blog!! :)
And the day has FINALLY come!
So if you would like to win this ruffled bib necklace
from me head on over to Vintage Wanna bee
and enter to win!! :)
But before you go I wanted to announce the winner of the
Gorgeous cameo headband from Moonbeams & Stardust!
If you didnt win, but would still like to purchase something
from the M&S shop, remember she has given an awesome
15% discount
to Agape Love followers...
see the coupon code below
then click the image to be taken to the shop!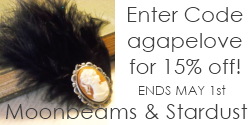 And the winner is...
Jayna!! Congratulations!! Im so happy for you girly! :)
Please email me your home address so you can get your prize!
Now everyone be sure to head on over to VWB and enter my
giveaway! And if you are interested in sponsoring a giveaway