Hello all! Today I have for you the very first Guest Blogger for the celebration!
I am excited to introduce you all to Laina of Vibrant Serenity! She is super sweet and is always #1 in my Top 10 Commentators box --> there in the side bar! She totally rocks. So lets show lots of comment love for her!!!

I hear there's a party over here! Maria has hit 500 followers!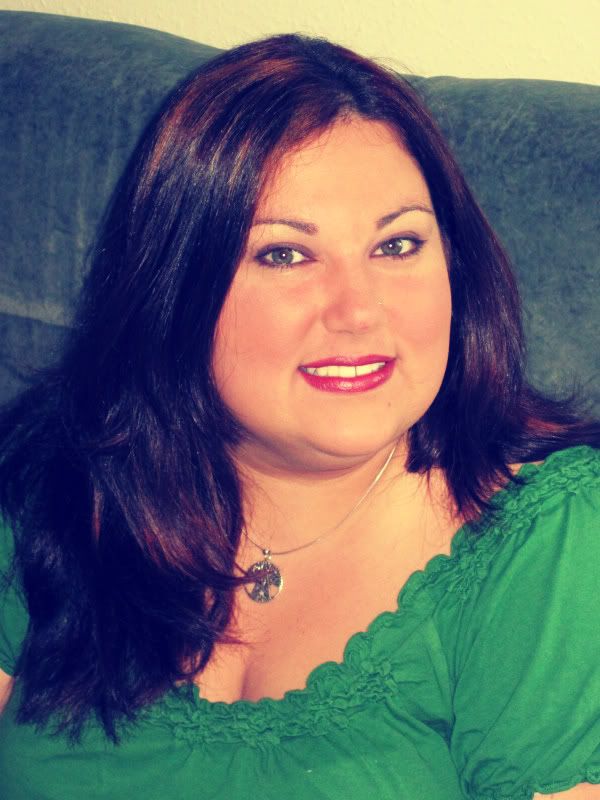 I'm am American (Texan) living in Denmark and learning how to be cultured. It's a whole new world here! After living here for a year (on August 17th), I've still got a lot to learn.
I love being creative and trying new things. I also love sharing
recipes
,
crafts
, and
Wellness Wednesdays
on my blog, which I started June 1st.
I figured since Maria's having a party, I should make some cupcakes to help her celebrate! I made 2 versions,
Sinful Mexican Chocolate Cheesecake Cupcakes
and for those of us who are trying to eat better, some
Heavenly Mexican Chocolate Cupcakes.
Thankfully the two cupcake recipes are almost identical, so here's what you will need for both recipes.
(If you prefer plain chocolate cupcakes, omit the cinnamon, white pepper, and cayenne pepper.)
a bowl and whisk (whisk not pictured)
a scale or measuring cup & spoons
an oven
a pan lined with parchment paper and silicon muffin/cupcake forms or a muffin tin lined with cupcake wrappers
Sinful Mexican Chocolate Cheesecake Cupcakes
Because I am trying to watch my girly figure, I made these a bit healthier, but left the original recipe intact for you.
1 package cream cheese (I used cream cheese with 3% fat)
1 egg, lightly beaten
1/3 cup sugar (here I used a substitute)
1 pinch salt
Mix together and set aside.
1 chocolate bar (100 grams) (crushed/chopped, or you can use 6 oz. semisweet chocolate chips)
Add to the cream cheese mixture.
1 1/2 cups flour
1 cup sugar or substitute (I used the substitute)
1/4 cocoa powder
1 teaspoon baking soda
1/2 teaspoon salt
1 teaspoon each cinnamon, cayenne, and white pepper
1 cup water
1/2 cup oil (I used only 1/4 cup. The amount of oil can be reduced by up to 1/3 without compromising the recipe if you wish.)
1 tablespoon vinegar
1 teaspoon vanilla (1/2 a vanilla bean, scraped)
Mix together in a bowl, then fill muffin forms 1/2 to 1/3 the way full (or 3/4 like I did).
After you've filled them all, add a large spoonful (or two, or three) on top of the chocolate. (I filled mine as full as I could get them.) Then pop them into a pre-heated 350 degree oven for about 20-25 minutes. Remove and let cool before turning upside down to release from silicone forms. (Skip this step if using cupcake wrappers, and just let cool.)
If you prefer a lighter, less cheesecake-y cupcake, then the Heavenly Mexican Chocolate Cupcakes are just as easy to make.
You will use the same ingredients, and method. However, this time, you will omit the first 4 ingredients and the cocoa powder and add about 1/8 teaspoon more baking soda.
Start by breaking up your chocolate bar and melting (either in the microwave, or over the stove in a double boiler). Once melted, add about about 1/4 of your oil to the chocolate and mix. Set aside to cool.
Mix together all the ingredients. Add the chocolate, and incorporate. Pour into cupcake forms and bake at 350 of about 20-25 minutes. Remove, and let cool.
Now that the cupcakes are finished it's time to make the frosting. I chose a cream cheese icing, and again, reduced the calories.
1/4-1/2 cup of butter (I used reduced calorie margarine, but I do recommend butter.)
1 package (8oz.) cream cheese
2 large spoonfuls powdered sugar (The more powdered sugar you have, the thicker and stiffer the icing will be. I used 1 spoonfuls of sugar and added sugar substitute. Also, if you don't have powdered sugar, there's no need to go buy it! Just pop some sugar in the blender and powder your own.)
Mix the frosting together and pour/spoon into a piping bag or a Ziploc bag works just as well. Just cut one of the corners and pipe frosting onto your cupcakes.
I probably ate about 4 'defective' cupcakes during the course of this baking extravaganza (and another 2 for breakfast this morning). I must say, they were delicious!
Do you eat the defective cupcakes (or cookies, brownies, etc...)?
I'd like to thank Maria for having me here today, and congratulations on hitting 500 followers! I would mail you these cupcakes, but I don't think I can stop eating them.
Laina, THANK you SO much for helping me celebrate with these fun cupcakes!! I LOVE how you incorporated my fav colors into decorations to really celebrate with me! That totally gave me perm-a-grin! haha You are so sweet and I thank you for these recipes! They look soo yummy! I totally eat the "ugly and defected" cupcakes/cookies when I am baking too! lol Then when people are around to actually eat the "good" cupcakes and I dont eat any they think Im so good for resisting the yummy treat! ;) *hehe*