Happy Friday!
I am excited to show off a few more fan photos that were sent to me!
It really brightens my day when I see photos added to my facebook page or open an email and see a photo of you wearing my items! Using my products or showing off a tutorial of mine you tried!
My sister Sammy of
The 4 Way Stop
, fell in love with my
XOXO headband
and had to get one for herself! :) So cute.. this is still one of my fav headbands I have ever created!
This young lady is Trista looking pretty in a custom headband I made for her! :)
And as usual, last is me.. wearing one of my creations!
This is my
XOXO wire written necklace
! This is only $15 just recently marked down from $18!
If you want feel free to grab a button if you have been featured!! :)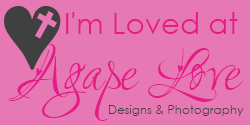 A BIG thank you
To all those who were featured for sharing your
photos and links with me!!
And just so you know:
if youre an Agape Love fan,
if you have purchased, or even won
any of my products,
If you have created anything
using any of my tutorials or
if you wanna share where you
have used my printables...
.. please send in your photos!
You can email them to me at:
agapelovedesigns@yahoo.com
or
POST THEM TO MY FB WALL!
I'd LOVE that for sure!
If you havent "liked" me yet..
then head on over and do it
You know you want to.. all the cool kids are doing it!
And it will make me feel oh so loved!
Much Love & Hugs,